---
普华永道: 2017年全球金融科技调查中国概要(附下载链接)
---
普华永道: 2017年全球金融科技调查中国概要(附下载链接)
零售银行、投资及财富管理和资金转移支付将是未来五年被金融科技(FinTech)颠覆程度最高的领域,电商平台、大型科技公司和传统金融机构是这场变革中最具颠覆性的力量。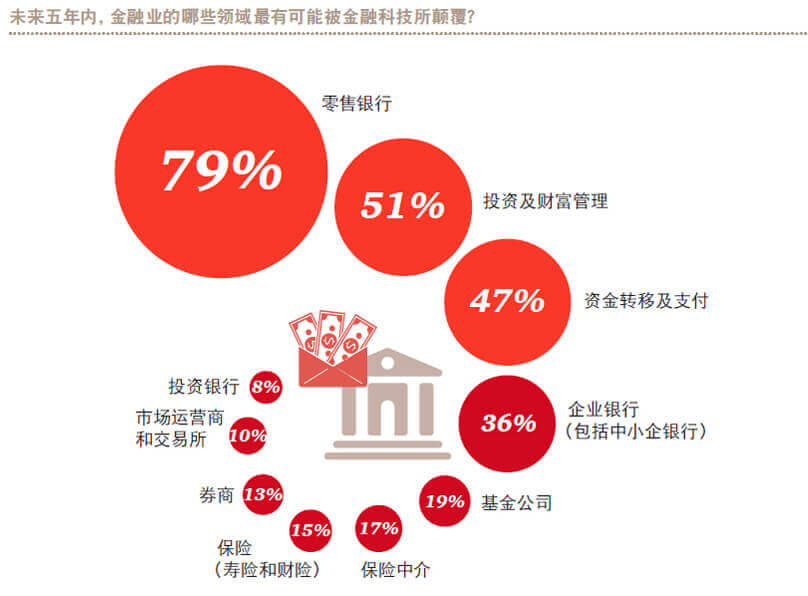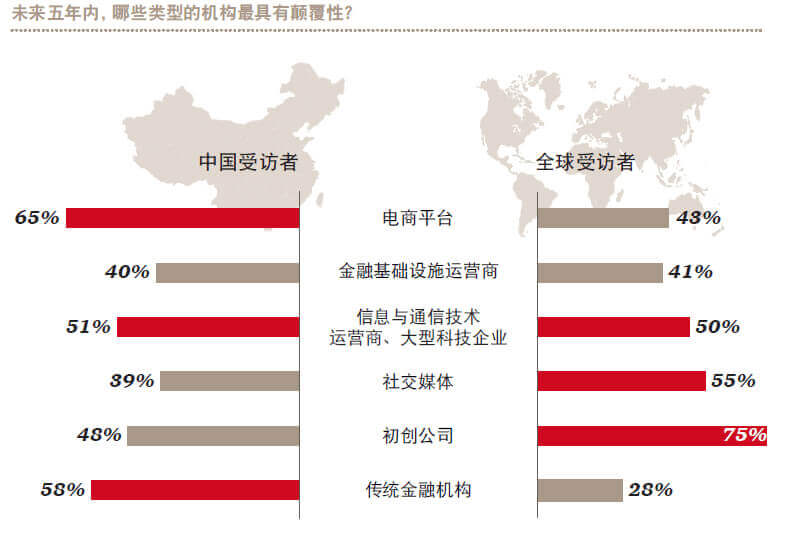 金融科技将从三方面带来机遇:
(1) 客户 - 金融科技低成本和无远弗届的特点,使金融机构得以将客户群体扩大至从前未获金融服务覆盖的群体。
(2) 产品与服务 - 客户的期望已从对产品的追求向体验至上转变,金融机构提供的产品和服务的重点,也将从简单和标准化,转变为创造个性化的体验。
(3) 渠道 - 在未来的五年里,实体分支机构(如分行)的重要性将逐年下降,而电子渠道,尤其是移动渠道才是"王道"。
金融科技的发展也面临了三方面的挑战:
(1) 竞争 - 竞争的加剧在所难免,不过比这个更要的是,在互联网和科技行业存在的"赢家通吃"的模式,在金融业是否可行?
(2) 监管 - 监管是一把双刃剑,法规不仅需要与时俱进,更关键的是如何在鼓励创新和控制金融风险间取得平衡?
(3) 人才 - 在金融科技的竞争浪潮中,想要获得优势,需要的是复合型人才。金融机构应如何培养面向未来的人才?
金融科技的浪潮中,"合"是大势所趋,金融机构应对变革三个维度:
(1) 战略与理念 - 未来三到五年,金融机构倾向于通过加强内部研发和与金融科技公司合作来落实创新。
(2) 资源投入 - 金融机构对于新兴科技的热情非常高涨,他们愿意将接近三分之一的资源分配到金融科技相关项目。
(3) 行动方案 - 金融机构和金融科技公司有增强合作的主观意愿,但在合作中仍需进一步磨合,解决信息科技系统和商业模式差异等挑战。
面向未来的三项创新科技,将给金融业带来深远的变化。尽快掌握这些科技,并围绕其落实相应的配套技能,将使金融机构在竞争中脱颖而出: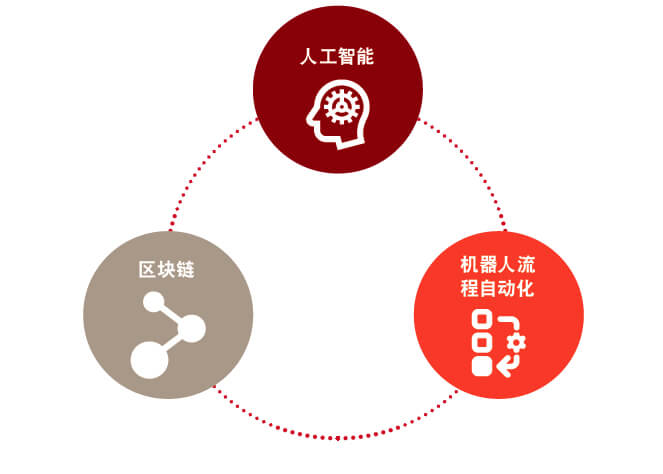 金融科技首先要立足于"金融"的本质,而金融服务的变化与实体经济的发展息息相关。随着实体经济向信息化、智能化和个性化的商业模式和生活模式演变,未来的金融服务模式也将向3.0转型,而科技将是这个"新金融"模式的重要支柱。
报告摘要原文下载,请点击
The FinTech sector in China has been developing rapidly and is now the world leader according to several key metrics. According to the PwC Global FinTech Survey China Summary 2017, the three main areas to be disrupted by FinTech in China over the next five years will be consumer banking, investment & wealth management, and fund transfers & payments. E-retailers, large technology companies and financial institutions will be the biggest sources of disruption.
As FinTech increases in prominence, the real economy is adapting to market-based, intelligent and personalized business and lifestyle models, and likewise the financial service model is set to transform. As these developments take shape "products and services", "user scenario" and "intelligent terminals" will become three particularly notable factors, while technology will serve as a crucial pillar underpinning the new financial model.
These findings stem from the second PwC Global FinTech Survey, which summarises the results from Chinese respondents for the first time. The survey includes feedback from more than 1,300 respondents globally, including 125 respondents from China.
PwC China FinTech service partner Chun Yin Cheung said, "China is a world leader for FinTech when it comes to quality and quantity, the implementation of data analytics, artificial intelligence and blockchain. We believe FinTech will continue to grow rapidly here, in an environment conducive to innovation encouraged by government, and with increasing partnerships between Chinese financial institutions and FinTech companies."
In terms of new opportunities arising from FinTech, survey respondents identified three key areas that hold substantial future potential. These span customers, products & services and channels. With regard to customers, FinTech will make it possible for financial service providers to tap currently underserved groups. Updates to products & services will continue to mature as financial institutions shift away from unsophisticated, standardised approaches and move to tailored and contextualised offerings. New opportunities through channels will take shape as mobile use moves to the centre stage, superseding a physical presence. Bricks and mortar structures, such as branch networks, though currently still the main service channel, will diminish over the next five years. Over the same period, mobile will become increasingly significant according to respondents' feedback.
FinTech also brings new challenges to the financial industry. There is a 'Winners-take-all' model in the internet & technology sector and whether the model fits well with the financial sector is still yet to be seen. Regulation, which can act as a double-edge sword, also needs to be appropriately evaluated. Continuous regulation is essential for an optimised approach, enabling timely updates that strike a balance between encouraging innovation and controlling financial risks. Also of note, in the competitive FinTech scenario, financial institutions will face challenges in cultivating an inter-disciplinary talent pool for the future.
The survey showed that the majority of Chinese financial institutions intend to increase their partnerships with FinTech companies over the next three to five years in order to keep up with market changes. For these partnerships to flourish, several challenges need to be addressed, and of which IT security and regulatory uncertainty are two of the most significant. Financial institutions also rank IT compatibility as a major concern, while FinTech companies see more problems arising from differences in business models. According to respondents, there is enthusiasm to form partnerships, however, companies will need to work together closely to ensure success.
James Chang, PwC China financial services consulting leader, concluded, "Technology is developing so quickly and failing to keep up with the market will lead to revenue and customer loss. Therefore, partnership is becoming increasingly important, and in this scenario, savvy financial institutions will be examining various collaborative models with FinTech companies. The innovative technologies that have the greatest potential to impact financial services in the future are artificial intelligence, robotic process automation and blockchain. Looking ahead, the financial institutions which are able to grasp the emerging technologies most quickly while implementing supporting skill sets, will have a major advantage over their competition."
About the Global Fintech China Summary
PwC's Global Fintech Survey China Summary 2017 features results from More than 1,300 respondents globally, representing Heads of Innovation, CIOs and top management involved in digital and technological transformation across the FS industry from 71 different countries and territories around the world. The China summary focuses on the 125 respondents from China, accounting for 10% of the total sample.