---
第三届中国国际(上海)不良资产投资 与危困企业重整论坛
---
第三届中国国际(上海)不良资产投资 与危困企业重整论坛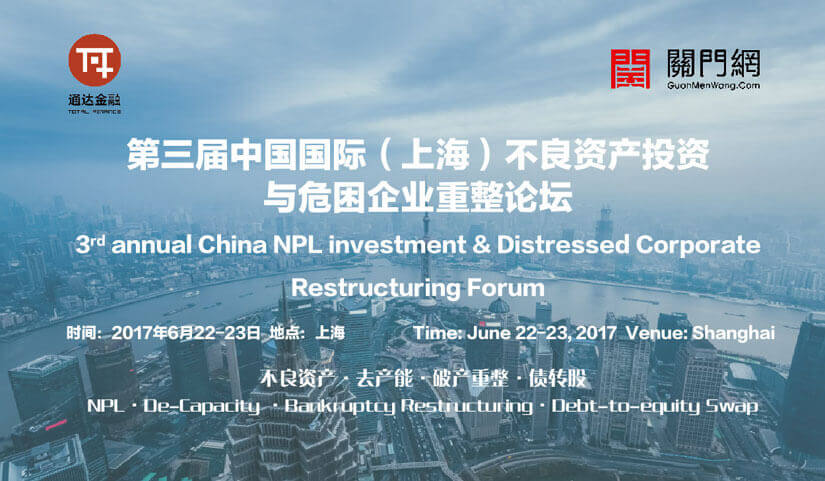 活动时间:2017年6月22日-23日
活动地点:上海
活动主办:通达金融
支持媒体:未央网、投资界、和讯网等
活动官网:http://www.opplandcorp.com/CNCR2017/
经济周期使然,上一轮是在经济上升期,资产一直快速升值,这一轮在经济新常态,资产价值升值与否需要深度分析,权威人士的"L型"言论可见一斑。资金成本将会成为行业参与者的绝对优势,不良资产管理将越来越显现金融的本性。本轮的不良资产相对优质、债务程度复杂、司法环境健全、处置模式多样化等多方位与前几轮不同的特点。
Economic circle does work! It was in time of economic upturn at the last cycle, with the assets improving rapidly all the while. For this cycle,it is in time of new normal of economy where we are in need of in-depth analysis over whether assets values rise or not. The L-shape judgment by authorities seems to justify it. The cost of funds shall become the absolute advantage of industrial participators, and the NPL management shall more and more bring the distinct of finance to the spotlight. This circle's NPL is different from those in the previous circles, as they are relatively of good quality, complicated debt procedure, sound legal environment, and diversification of disposal modes.
在"三去,一降,一补"的背景下,受经济下行压力、企业升级转型等多方面因素影响,导致企业债务困境,资金链断裂,经营陷于停滞,触发严重的债务违约。加强推进的《破产法》的进一步的实施,通过司法重整的会使危困企业风险化解,从而借助市场手段、市场资源实现危困企业的重生,对于危困企业脱困、实现债权人利益的最大化、充分保障职工权益、股东利益都具有深远的影响。
In the backdrop of "Three eradicating, one decrease and one supplementing", and in face of economic downturn and corporate upgrading, many companies are stuck in debts and capital constraint, resulting in operational stagnation and even severe debt defaults. To strengthen the further implementation of Bankruptcy Law can help distressed companies tackle with risks through judicial reforming, and realize the rebirth of the distressed companies via marketing manners and market resource restructuring. It is of great significance for helping distressed companies get out of the mire, realize the maximization of the creditors' interests and fully guarantee employees' rights and benefits.
因此,推动中国不良资产的市场发展和危困企业的司法重整对于中国的金融债务乃至维护地方区域内的市场经济环境和金融生态环境均具有重大的现实意义。从而,需要政府、监管及市场化机构多方力量共同努力与支持。在多方力量的鼎力支持下,通达金融研究院深耕不良资产及危困企业司法重整的行业研究,我们在于2017年6月22日-23日在上海举办"第三届中国国际(上海)不良资产投资与危困企业重整论坛",欢迎不良资产行业的投资与处置的新朋老友相聚魔都,共谋中国不良资产投资与危困企业重整市场的稳健发展!
CNCR2017助力多元化、全方位化解不良资产,七大理由不容错过!
CNCR2017 aims to provide diversified and comprehensive solutions to NPL for 7 reasons!
理由一:国际顶级投资机构齐聚CNCR2017
通达金融在北京、香港两地已成功举办专业的不良资产投资与处置论坛及超过5场专业培训。累计了有KKR、Black Rock、Lone Star、Blackstone、Oaktree Capital 、Apollo Global Management、DAC Management、Fortress、Double Haven Capital、Bain Capital、Carlyle Group、Baring Private Equity Partners Asia、Shore Vest、Phoenix Property Investors、CPPIB ASIA INC、D E Shaw、United Oriental Capital、Davidson Kempner Capital、ADM Capital、加拿大养老基金投资公司、大华银行、海岸投资、鼎晖投资、东方藏山资产管理有限公司、春华资本集团、中金公司、BMO 银行金融集团、天利控股、中银集团投资有限公司、美国德太投资有限公司等国际投资机构参与及分享全球的宝贵经验。2017国际的投资机构将继续汇聚上海,共同推进中国不良资产市场的稳健发展,来自全球的智慧,不容错过!
Reason I: Leading Top NPL investors will gather in CNCR2017
Total Finance has held two professional NPL investment and disposal forums and 5 professional trainings in Beijing and Hong Kong. Accumulating many Key players(For instance KKR, Black Rock, Lone Star, Blackstone, OakTree Capital, Apollo Global Management, DAC Management, Fortress, Double Haven Capital, Bain Capital, Carlyle Group, Baring Private Equity Partners Asia, Shore Vest, Phoenix Property Investors, The Pictet Group, CPPIB ASIA INC, D E Shaw, United Oriental Capital, Davidson Kempner Capital, ADM Capital, United Oriental Capital, Shoreline Capital Management, CDH Investments, China Orient Summit Capital Co., Ltd., Primavera Capital, CICC, BMO Financial Group, Bank of China Group Investment Limited, TPG Capital Goldman Sachs, Morgan Stanley, UOB Mezzanine Capital and other GPs , LPs & other Financial institutions in participation. In 2017, international investment institutions will continue to gather in Shanghai, to promote stable development of China NPL market together. We shall not miss out for the wisdom from around the world.
理由二:中国不良资产行业联盟与中投危困企业投资并购联盟鼎力支持
中国不良资产行业联盟的主席是由具有12年专门从事不良资产投资的海岸基金董事长张晓琳女士,海岸基金也是在中国不良资产行业投资机构的顶尖基金。通达金融作为中国不良资产行业联盟的常务理事单位,整合前两届相继在北京、香港两地成功举办的论坛,积累了大量的境内外专业的投资机构,与由上千个本地银行、资产管理公司和律师事务所的中国不良资产行业联盟天然结合。
中投危困企业投资并购联盟是由从事是超过20年破产法泰斗级人物中国人民大学破产法研究中心副主任、北京市破产法学会副会长郑志斌担任秘书长。中投危困企业投资并购联盟是由江山控股、五洲国际、网讯股份、弘高股份、鼎辉投资、工商银行、复星集团、中国风险投资等几十家上市公司和近百家国内外知名金融机构发起的,宗旨在依法通过庭外重组、预重整及破产重整等方式,创造性地利用各种金融工具和金融产品,促进危困企业的并购重组。CNCR2017牵手两大权威联盟,如此盛宴怎能错过?
Reason II: Supported by the China Non-Performing Loan Industry Alliance and the China Association for Distressed M&A
The Chairman of the China Non-Performing Loan Industry Alliance is Ms. Zhang Xiaolin, Chairman of the Shoreline Capital, who has 12 years of investment in NPL, the Shoreline Capital
currently manages over US$1 billion of capital in portfolios of non-performing loans, restructured single credits, special situation financings, distressed private equity and real estate. As the standing director of the China Non-Performing Loan Industry Alliance, Total Finance has accumulated a large number of domestic and foreign professional investment institutions by successfully holding two forums in Beijing and Hong Kong, combination with the China Non-Performing Loan Industry Alliance composed of a large number of local banks, AMCs and the law firms.
The leading authority figure, the deputy director of bankruptcy law research center of Renmin University of China; vice president of Beijing bankruptcy law association, Zheng Zhibin, who having been engaged in bankruptcy law for more than 20 years and serves as the president of the China Association for Distressed M&A. The China Association for Distressed M&A was initiated by dozens of listed companies and nearly 100 domestic and foreign well-known financial institutions, including KONG SUN HOLD, Wuzhou International, Vtion Wireless Shares, Honggao Shares, CDH Investments, Industrial and Commercial Bank of China, Fosun International Group, China Venture Capital for the purpose of the creative use of various financial instruments and financial products by restructuring out of court, pre-reforming and bankruptcy reorganization in accordance with the law, to promote the merger and reorganization of distressed companies. CNCR2017 will unit two major authority unions, so how can we miss the Event?
理由三:国内大型专业的资产端相聚CNCR2017
通达金融以协助化解国内银行、租赁及汽车金融等信贷企业的不良资产为核心作为出发点,救助危困企业的债务危机为重心提供一个市场化、透明化及信息化的交流平台。在过去的2016年里曾为中国进出口银行、工商银行、交通银行、民生银行、广发银行、上海银行、江苏银行、锦州银行、南京银行、包商银行、永亨银行北京分行、中国金融租赁、信达金融租赁、民生金融租赁、建信金融租赁、交银租赁、远东国际租赁、平安租赁、海通恒信租赁、中航租赁、渤海租赁、华融租赁、中建投租赁、太平石化租赁、河北金融租赁、环球医疗租赁、聚信租赁、华能天成租赁、狮桥租赁、泰达租赁、丰汇租赁、光大幸福租赁、南山租赁、东风日产汽车金融、北汽新能源、广汽汇理、东风标致雪铁龙汽车金融等提供了实操培训和大型的高端交流论坛。CNCR2017将继续为更多的资产端提供更加高效的交流与学习平台。从现实情况出发,为市场化努力,助您获得一揽子高效的行业资讯!
Reason III: The domestic major Distressed Asset Sellers get together in CNCR2017
With assisting to resolve the NPL of the domestic banks, leasing and other credit assets as the core as the starting point, and helping the debt crisis of distressed companies as the focus, Total Finance provided a marketized transparent and informational exchange platform. In the past 2016, it provided The Export-Import Bank of China, Industrial and Commercial Bank of China China Citic Bank Corporationg, Agricultural Bank of China, Bank of China Limited,Bank of Communications, China Construction Bank Corporation, China Everbright Bank, Shenzhen Development Bank, Shanghai Pudong Development Bank, China Minsheng Banking Corp. ,Bank Of Dalian, Bank Of Beijing, China Merchants Bank, Changsha City Commercial Bank Fushun Commerial Bank, Bank Of Jiangsu, Harbin City Commercial Bank, Bank Of Shanghai, Shangrao City Commercial Bank, Hua Xia Bank, Guangdong Development Bank, Bank of Jinzhou, Bank of Nanjing, Booshang Bank, Wing Hang Bank Beijing Branch, China Financial Leasing, Cinda Financial Leasing, Minsheng Financial Leasing, CCB Financial Leasing, Bank of Communications Financial Leasing, Far Eastern Leasing, Ping An Leasing, Haitong Unitrust International Leasing, Avic International Leasing, Bohai Leasing, China Huarong Financial Leasing, China Construction Investment Leasing, Taiping Petrochemical Leasing, Hebei Financial Leasing, Universal Medical leasing, Junxin Leasing, Dongfeng Nissan Auto Finance, BAIC BJEV, JIC Leasing etc. with practical training and large-scale high-end exchange forum. CNCR2017 will continue to provide more efficient exchange and learning platform for more Distressed Asset Sellers. From the reality, it will make efforts to marketization, helping you get a package of efficient industry information!
理由四:响应 "两会"聚焦不良资产的6份提案
2017年中国的不良资产压力徒增,在"三去,一降,一补"的背景下,受经济下行压力、企业升级转型等多方面因素影响,导致企业债务困境,资金链断裂,经营陷于停滞,触发严重的债务违约。推动中国不良资产的市场发展和危困企业的司法重整对于中国的金融债务乃至维护地方区域内的市场经济环境和金融生态环境均具有重大的现实意义。
赖小民:《关于支持金融资产管理公司拓展融资渠道,积极发挥化解金融风险作用的建议》;
马蔚华:《关于放宽零售小微企业不良贷款转让政策的提案》;
马蔚华:《建议完善不良资产处置损失税前扣除政策》;
赵宇梓:《提出关于进一步完善信用卡不良资产处置政策的建议 》;
董大胜:《关于关注隐形不良贷款加强银行资产质量监管的提案》;
致公党:《关于建立金融不良资产专项基金提升金融供给侧效率的提案》
紧跟监管政策方向,加快业务布局脚步!
Reason IV: Responding to "NPC & CPPCC" to focus on 6 proposals of NPL
With increase in China NPL pressure in 2017, under the background of the "Three eradicating, one decrease and one supplementing", suffering from downward pressure of economy, business transformation and other factors causes the corporates to get stuck in debt difficulties, capital chain breaking, stagnation of operation, triggering serious distressed debt. It is of great practical significance to promote the development of China NPL and the judicial reorganization of distressed enterprises to China's financial debt and even to maintain the market economy environment and the financial ecological environment in the local area.
Lai Xiaomin: Suggestions on the Support of Financial Asset Management Companies to Expand Financing Channels, and Actively Play a Role in Eliminating the Financial Risks;
Ma Weihua: Proposal on the Relaxation of Retail Small and Medium Enterprises Non-Performing Loan Transfer Policy;
Ma Weihua: Suggestions on Improve the Disposal of NPL Before Tax Deduction Policy;
Zhao Yuzi: Proposal on Further Improving the Credit Card NPL Disposal Policy;
Dong Dasheng: Proposal on Strengthening the Supervision of Bank Assets Quality of Invisible Non-Performing Loan;
Zhi Gongdang: Proposal on the Establishment of Financial NPL Special Fund to Enhance the Efficiency of the Supply Side
Follow the direction of supervision policy and accelerate the pace of business layout!
理由五:"外资+本土"和"监管+学术"的完美交汇
"外资+本土"和"监管+学术"的完美交汇,才能共促中国不良资产市场的发展。超50位不良资产行业领袖就目前"三期叠加"背景下银行不良持续走高,中国银行业不良贷款比率尚未触及顶点深度探讨。基于亚洲不良资产金融趋势的宏观视角,借鉴全球智慧共谋中国不良资产的化解渠道。全方位视角探讨破产法推进对危困企业的有序重整的影响,多维度力量推动产融结合对危困企业的有效退出的价值。多位具有十几年丰富经验的NPL投资及处置专家将借助CNCR平台,分享团队最佳的投资策略及创新处置经验,寻求最专业的合作伙伴,共促"外资+本土"和"监管+学术"融合交汇。
Reason V: Perfect integration of "foreign capital + local capital" and "supervision + academia"
Perfect integration of "foreign capital + local capital" and "supervision + academia" can contribute to the development of China NPL market. Over 50 NPL industry leaders had deeper discussion on the situation that the Chinese bank's NPL ratio has continued to rise and has not yet touched the top point under the background of the current "three-stage superimposed". Based on the macroeconomic perspective of Asian NPL financial trends, drawing lessons from the wisdom of the world, it is designed to resolve China's NPL channels. From all-dimensional perspective, it is designed to explore the bankruptcy law to promote the orderly reorganization of the impact of distressed companies, and to use multi-dimensional forces to promote the value of integration of industry and financing on effective exit of the distressed companies. NPL investment and disposal experts with more than 10 years of experience will use the CNCR platform to share the best investment strategy and innovative disposal experience, and seek the most professional partners to promote integration of "foreign capital + local capital" and "supervision + academia"
理由六:绝佳的创新成果展示平台
CNCR2017欢迎各大专业的咨询公司、资产管理公司、互联网处置平台、律师事务所、会计事务所及交易所在不良资产投资与处置,危困企业重整与重组的服务与经验展示,同时也欢迎具有行业代表性、处置前沿性的企业代表与会展示。届时,会有超过350位来自境内外的投资银行、有限合伙人、基金、银行、四大及地方AMC、上市公司、交易所、国际律师事务所、经济学家等参与代表参加,是绝佳的展示曝光平台!席位有限,报名从速!
Reason VI: Excellent innovative result exhibition platform
CNCR2017 welcomes the services and experience of the major professional consulting firms, AMCs, Internet disposal platforms, law firms, accounting firms and exchanges in the investment and disposal of NPL, restructuring and reorganization of distressed companies, as well as the business representatives with the representative role in industry, and with cutting-edge disposal. At the time, there will be more than 350 participating China banks, LPs, GPs, investment banks, Big Four AMCs and local AMCs, Exchanges, Domestic disposal firms, economists and other participating representatives from home and abroad. It is the excellent exposure platform! With the seats are limited, come to make registration as soon as possible!
理由七:闭门式主会场+"卫星会",只为满足不同的需求对接。
组委会全程指定一家战略媒体,为整个大会曝光。闭门式更加满足分享嘉宾的表达诉求,让每一个参与嘉宾都可以得到良好的沟通语境。从而达到交流无阻,畅通无碍。"卫星会"指在大型主会场期间召开的分组讨论会及小型会议,可以帮助机构利用单独的空间展示小型的研讨会,同时,与主会场的天然融合和补充。
Reason VII: Closed main venue + "satellite symposium" is connected only for different requirements
Organizing Committee will designate a strategic media partner for the entire conference exposure during the entire process. Closed-type is more satisfied with the appeal of sharing and expression of the speakers, so that each participant can get a good communication context, thus achieving unimpeded access, smoothness without any barrier. "Satellite Symposium" means a group discussion and a small meeting held during a large main venue, which can help the institutions to use a separate space to display small seminars, while providing the natural integration and supplement with the main event.
参会报名&赞助
Registration & Sponsorship Co-operation
李宸 Eric Li
Tel:+86 021 5058 9600*8019
Mob:+86 150 2665 2832
E-mail:ericl@opplandcorp.com
媒体合作
Media Co-operation
宁娜 Nadia Ning
Tel:+86 021 5058 9600*8013
Mob:+86 157 3885 8526
E-mail:nadia_n@opplandcorp.com

扫一扫二维码 在线报名